Don't miss out: follow your favourite artist
Published 18 May 2022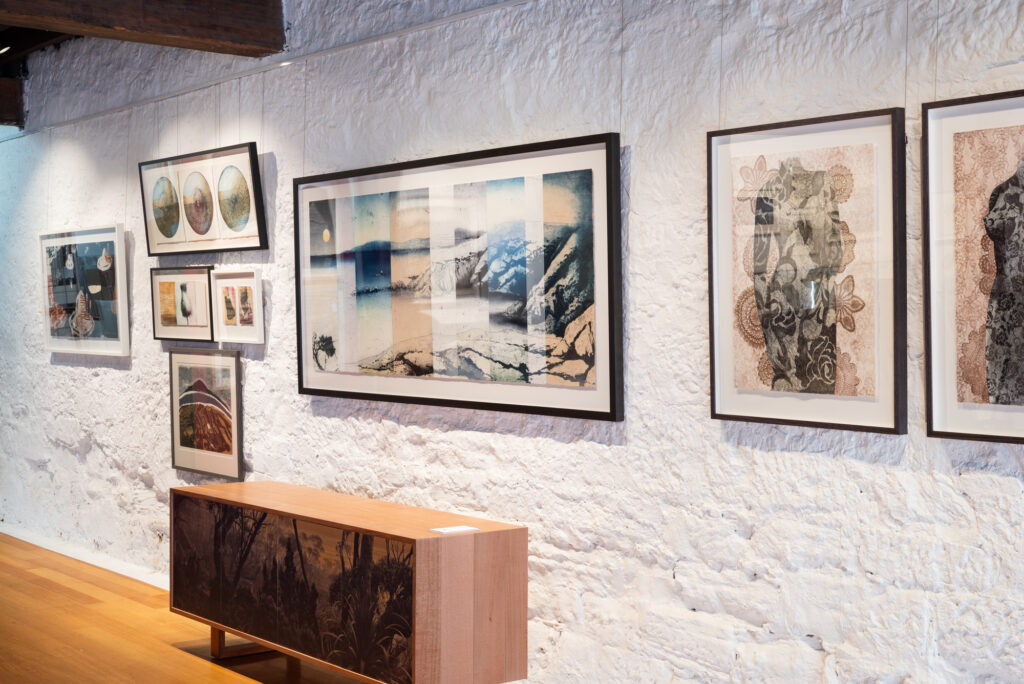 Such is the popularity of Handmark artists, that most exhibitions are sold out – or virtually sold out – before they even open. "This is growing trend," new Gallery Manager, Maddie Davies explains. "Pre-sales are often the only way you can buy art. There is simply not enough from our incredible artists to keep up with demand!" Determined to find a solution, Maddie developed Follow your Favourite Artist.
"The best way to secure art is to be on Handmark's 'Preview List'. This gives you an exclusive catalogue 'sneak peek' about a week before an upcoming exhibition, and the chance to buy before it opens to the public."
Handmark's 'Preview List' is not new, but there were difficulties with customers having to contact the gallery and specifically request one. However, now you simply head to our website and 'click' Follow Artist on all your favourites to automatically receive their preview catalogues when they are sent out. You can also 'click' Receive a Preview on our upcoming exhibitions page: "We realised how important it is for buyers to easily manage which artists they would like exhibition previews from, and we have come up with a solution we're thrilled to unveil." 
Emily Snadden – Autumn Treasures
Published 18 May 2022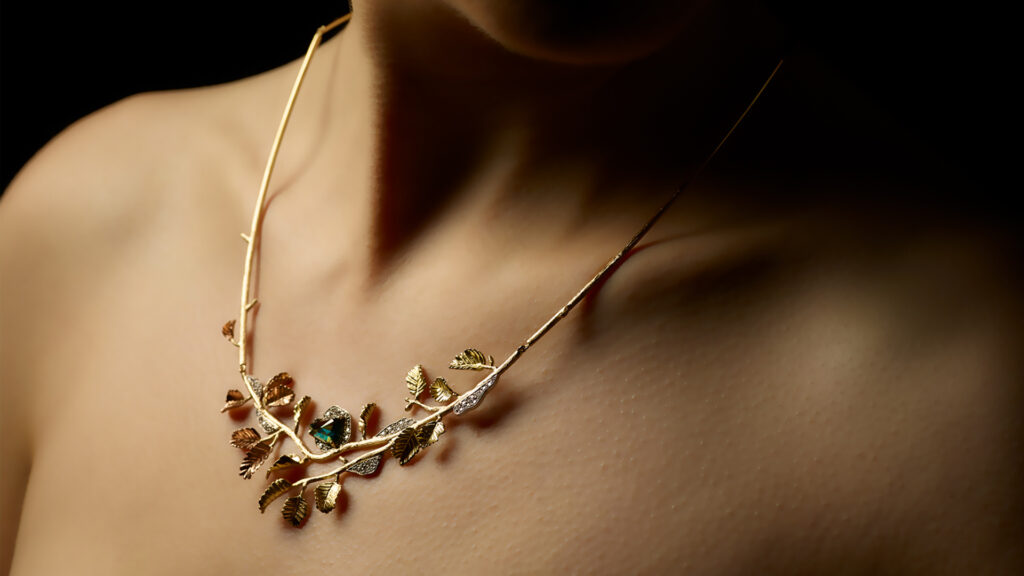 Jeweller, Emily Snadden's spectacular gold, sapphire and diamond work of art, The Turning of The Fagus/Snow at Crater Lake, is the culmination of a life's work. Her ode to that May ritual where people flock in wonderment to the island's highlands as leaves of the small fagus trees, found only in Tasmania, erupt as she explains "in a spectacular show of autumn colour, often combined with dustings of snow."

Emily's masterpiece is anchored by a brilliant 2-carat Australian sapphire, custom cut into the shape of Crater Lake at Cradle Mountain. "This is a brilliant high-quality gem – and it is pretty big," Emily enthuses. "There is a real resurgence for natural Australian 'parti' sapphires which dazzle in an array of colours. This one is a blend of blue and green representing the colours of the lake." The hand-crafted branch style neckpiece which curls around the wearer is fashioned out of yellow, white, rose and green gold to "mimic the autumnal turning of foliage through the use of graduated gold on delicately hand carved leaves."  A dusting of diamonds represents highland snow.

The Turning of The Fagus/Snow at Crater Lake is the centrepiece of Emily's new mini-collection. But, if your budget doesn't permit, there are other more affordable pieces for sale at Handmark – all delicate, detailed and dazzling displays of Autumn glory!

View Emily's exquisite collection here.
Melissa Smith – Without a Sound
Published 18 May 2022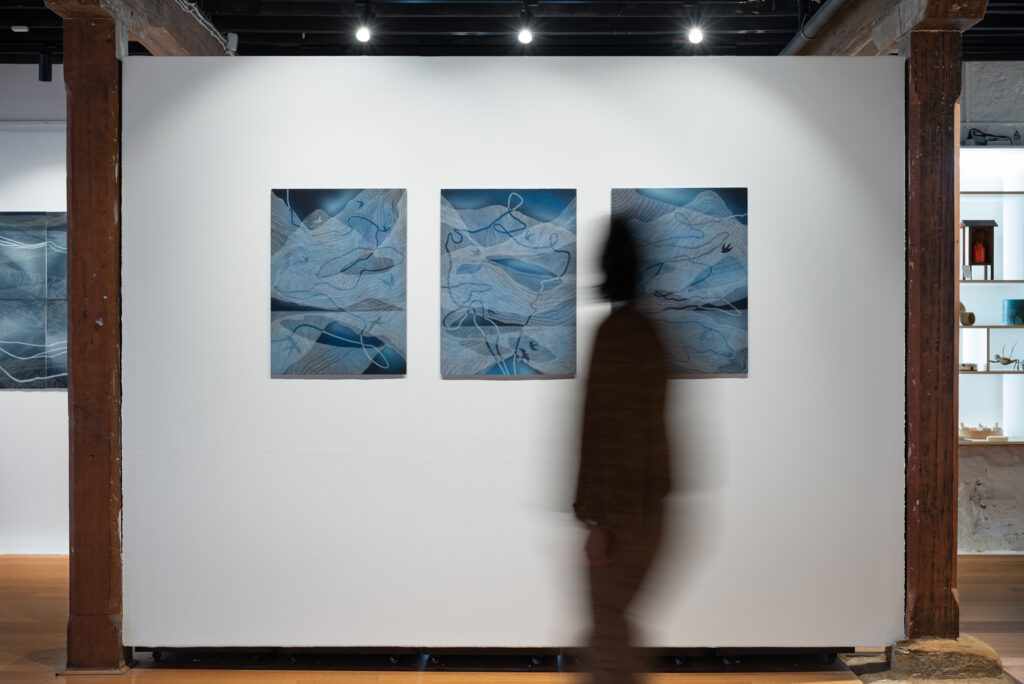 Those familiar with Melissa's strikingly subliminal prints, will recognise a deep connection to Tasmania's highland lakes. Without a Sound revisits Lake Sorell, Melissa's place of refuge where she finds solace in the absence of human voices and man-made sounds. It is this 'silent tranquility' that underpins her latest collection: "This environment provides a sense of quietness, layered in its own history and stories," Melissa explains. "The prints in the exhibition are a response to this particular landscape's whispers."

In Without a Sound we also view the largest work that Melissa has ever produced. Expressed in a series of 8 panels, Hushing Night takes us on a soundless nocturnal adventure with surrounding hills mirrored in the lake and wind patterns reflected on the water. But, her experimentation with larger scale works has also resulted in a 'big triptych' called Silent Beacon where Melissa shares her captivation with, "a giant dead eucalypt across the lake that gets the western light in the evening and just glows."

Melissa's palette also shifts with her use of softer and subtler colours. Layered in different shades of blue, we see hints of teal, green and grey reflecting the "turbid and often windswept waters of the lake." All the prints in Without a Sound were created for Melissa's 2021 solo show at the Devonport Regional Gallery.

Melissa Smith's Without a Sound exhibition opens at Handmark Gallery on Friday, May 13 and runs until May 30. View exhibition here. 
museum piece ― michael mcwilliams – the tasmanian pavilion
Published 4 April 2022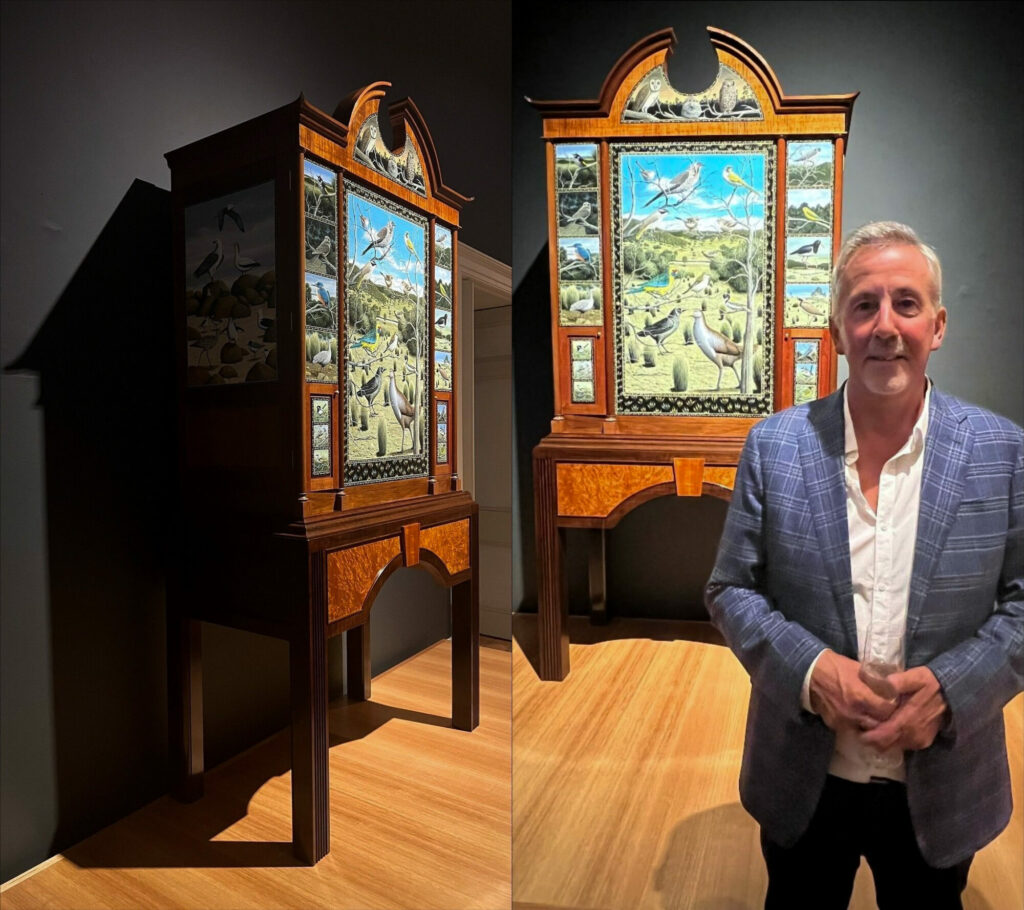 A stunning new work of art is gracing the hallowed halls of Hobart's Tasmanian Museum and Art Gallery (TMAG). It's a beautiful cabinet adorned with panels of local birds painted by Handmark artist, Michael McWilliams.

You may recall the The Tasmanian Pavilion? This stunning cabinet held centre stage at Michael's November exhibition, which sparked extraordinary scenes, with people queuing outside Handmark Gallery.

The Tasmanian Pavilion is a collaboration between Michael, and local artisan, Peter Collenette, who hand-crafted the cabinet from specialty Tasmanian timber. In what he describes as "his biggest ever project," Michael spent five years covering the cabinet with intricate paintings of Tasmanian birds, some of them endangered: "The middle panel shows the 12 birds that are endemic to this state and found nowhere else. You could say It is a testament of my love for these birds, which are a little like the Tasmanian Tiger – you don't appreciate them until they are gone!"

This cabinet is so uniquely special, that it was sold by expression of interest, and Michael could not be "more thrilled with the outcome". "I was hoping it would end up in a public institution and not hidden away in a private home."

The Tasmanian Pavilion was purchased by private Melbourne collectors who have generously loaned it to  TMAG, and Curator Jane Stewart is thrilled that this "wonderful example of contemporary Tasmanian art and design is on display for people to see. It fits perfectly within the TMAG collection given it's connection to Tasmanian birds and Tasmanian art and culture."
New Artist – Anna Fitzpatrick – Great Southern Land
Published 4 April 2022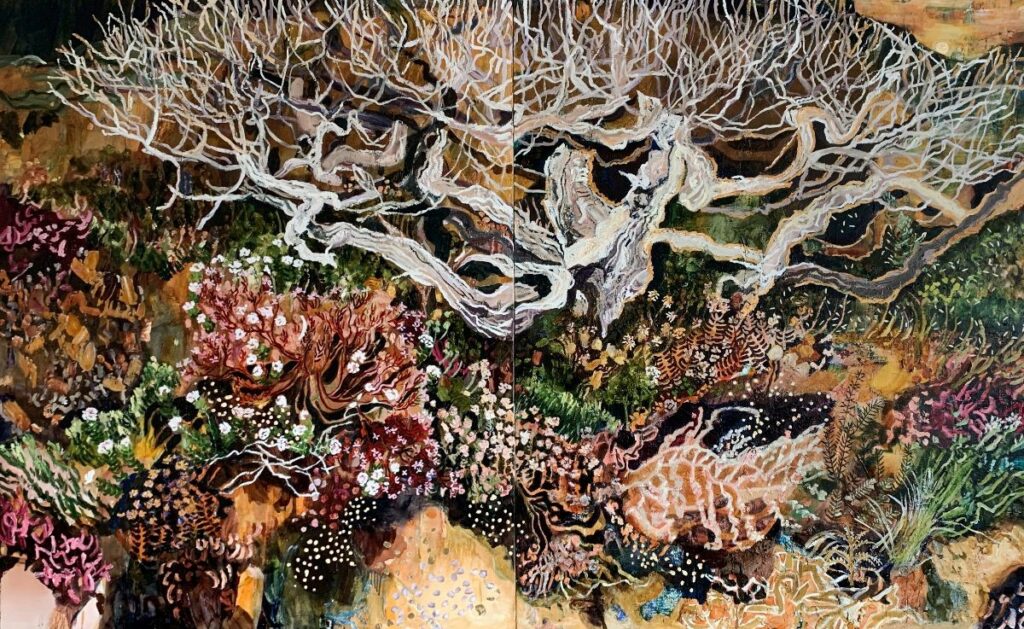 regrowth after fire, oil on canvas, 152 x 244 cm
The latest member of the Handmark stable, Anna Fitzpatrick, is about to unveil her vivid oils and we are in for a treat. Vibrancy and richness of colour. Thick textural layering. Bold landscapes that spark feelings of joy. These are the hallmarks of Anna's works and they will be on full display in her first Handmark exhibition next month.

Anna's Great Southern Land is a love letter to "the mythic landscape of Tasmania." Her large-scale oil paintings pay homage to both the power and fragility of this ancient landscape. They take the viewer in close by focusing on minutiae, such as Banksia trees which are a recurring theme in her work: "I admit I am a little obsessed with them as they are the perfect metaphor for this raw and powerful land," Anna tells us.

"Banksia's date back 65 million years, and they have been to hell and back, surviving ice-ages and bushfires." This message is powerfully delivered in Mythic Banksia where an ancient tree clings to life above a sheer drop at Cape Pillar on the Tasman Peninsula. Battered by wild winds "it is old and gnarled, and full of stories – but still here."

But, Anna also injects "sparks of joy" into these harsh landscapes. In Regrowth after Fire, sparked by childhood memories of hiking through Mount Field National Park, a ghostly banksia holds centre stage, but, all around, bursts of colour break through as flowers and other new life emerge from the ash: "Not for this banksia a fiery end, but a new life beginning. With the first buds springing forth in the moonlit sky."

Anna Fitzpatrick's Great Southern Land exhibition runs from April 22 – May 9.
Clifford How – Takayna – Original Earth
Published 4 April 2022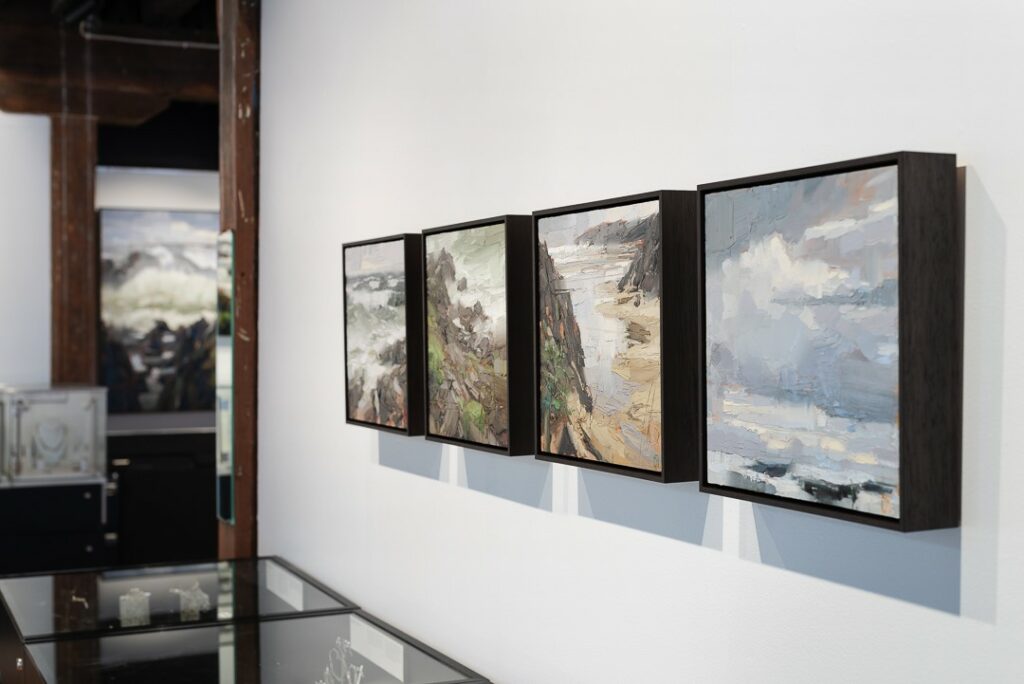 Clifford How has quickly gained a reputation as one of Tasmania's most in-demand artists, but even he is shocked by the sell-out success of his upcoming solo exhibition, Takayna – Original Earth, which takes his work to a bold new level.

We have come to associate Clifford's oil paintings with Tasmania's Central Highlands where reflections glimmer on still, calm waters. But in Takayna – Original Earth, Clifford transports us to the wild west where canvases burst with turbulent power as fierce waves pound jagged shorelines: "I am overawed by the vastness and perpetual movement of that big ocean, and the romantic notion that there is nothing between Tasmania and South America," Clifford tells us. "And this is the fuse that ignited these paintings of a timeless land sitting on the edge of the world."

Clifford's 19 new works come after years visiting takayna/Tarkine. And, as is his usual practice, this self-taught artist takes a sketch pad and camera on treks, later recreating landscapes back in his Launceston studio. However, it is only recently that Clifford has had the confidence to tackle the energy and movement that this wild takayna/Tarkine landscape dictates. "This is a big switch in subject matter, but I really felt I had to challenge myself."

Pairing back his palette to just four colours and white, and bringing a powerful new emotion to his art, Handmark Director, Allanah Dopson simply states: "Clifford has gone to a whole new level with these paintings." There is no doubt about that.

Clifford How's Takayna – Original Earth exhibition runs from April 1 – 18
Celebrating Tasmanian Print Makers
Published 22 March 2022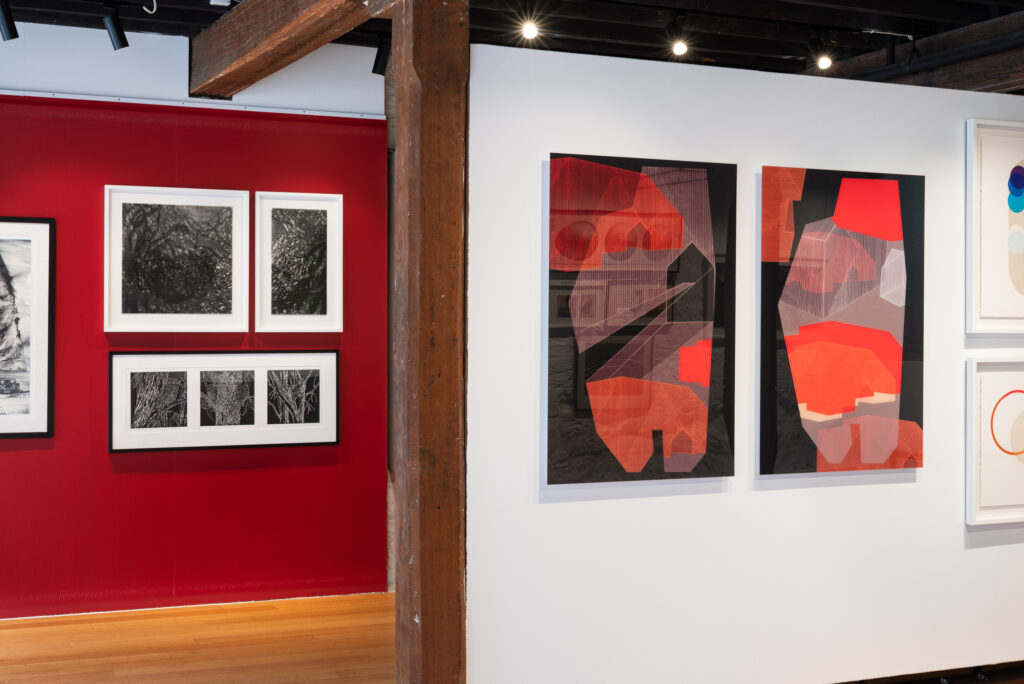 Two years ago when printmakers, Melissa Smith and Helen Mueller were telling me about their idea of having an exhibition of Tasmanian printmakers, both emerging and established on-line at May Space in Sydney in July 2021, I immediately said that it would be great to also have an exhibition of this group at Handmark in 2022.  Prior to this, the wonderful Ray Arnold also presented the "May Space" group at the Unconformity Festival in Queenstown last October.
Some of the artists in the "May Space" exhibition were represented by Handmark, and I wanted to invite all our Handmark printmakers to join as well.
This Handmark exhibition marks 15 years of my ownership of Handmark.  My first exhibition was called Printmakers of Tasmania and I saw it as one of my missions to promote this wonderful artistic medium of printmaking, that I believed to be very undervalued and under rated.  Michael Schlitz and Ray Arnold, although both represented by Bett Gallery were also in this first Handmark exhibition and it is great to have their work included in this show along with my wonderful Handmark artists.
I also asked Tom Samek's wife, Tracey, if she had found any etchings that could be included  in this show. I am thrilled that she has given us two special pieces.
Please celebrate the work of:  Antonia Aitkin, Raymond Arnold, Tim Coad, Rebecca Coote, Mindy Dore, Katina Gavalas, Nic Goodwolf, Kaye Green,  Kit Hiller, Jan Hogan, Jennifer Marshall, Diane Masters, Helen Mueller, Olivia Moroney, Lex Palmer Bull, Jonathan Partridge, Alex Pitt, Mandy Renard, Natasha Rowell, Tom Samek, Michael Schlitz and Melissa Smith.
Allanah Dopson
Director
congratulations glover finalists ― bethany van rijswijk and mairi ward
Published 26 February 2022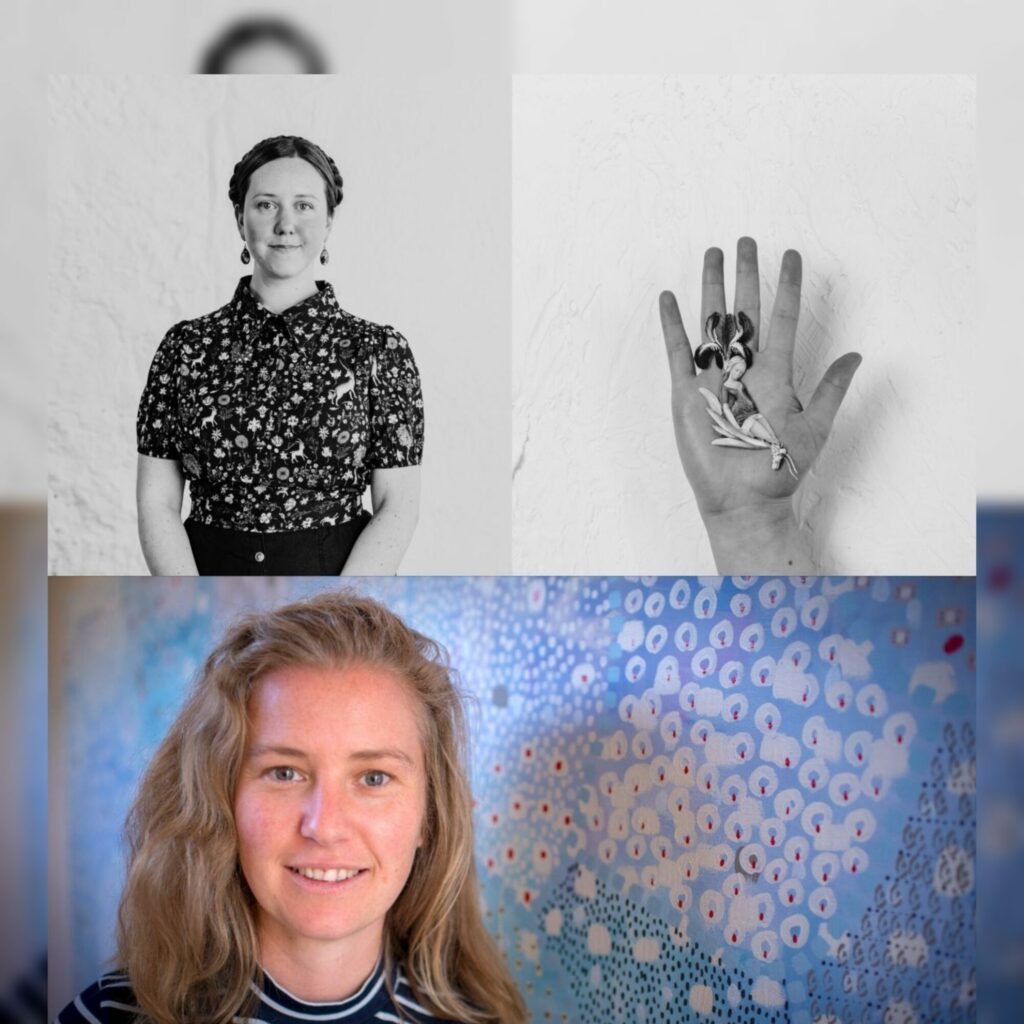 Exciting young Handmark artist, Bethany Van Rijswijk, is not only a first-time Glover entrant, but also a first-time Glover finalist as she takes the art of collage to new heights.
Inspired by domestic crafts and folk art, Bethany has created a distinct style that is attracting a growing legion of fans. For her inaugural Handmark exhibition last year, Bethany produced hand-cut collages where towering plants loomed over small figures like the scene from some medieval fairytale. And, for her Glover entry Bethany has created another fairytale vision. This one seeking out the glories of 'prelapsarian' landscape 'before the fall of man'.
Bethany was selected as Glover finalist for A Trespasser's Guide to Prelapsarian Fruits, where she explores the fall of the 'golden age' of agriculture in a paper collage quilt: "From the seventeenth century, as agricultural pressures increased, huge swathes of English land were enclosed, and the common rights that people held over farmlands were removed," Bethany explains.
In Bethany's hand-cut quilt, glorious pastoral scenes of fruit, animals and workers are contained within individual small patches, but their division is symbolic of the fence which breaks up the land: "Agricultural land, the pastoral landscape, came to be defined less by bee-loud wildflowers and overburdened fruit trees and more by fences and walls. History has an unsettling habit of repeating itself."
Capturing the pure joy of a spring day in her hidden garden, has secured Handmark artist, Mairi Ward, a coveted place on the Glover finals list.

Mairi is 'delighted and honoured' to be selected as a Glover finalist for the fifth time. This year it is for her delicately beautiful painting, Joy, inspired by Mairi's 'secret garden studio' which is tucked away in the heart of Launceston's city centre. This rustic cottage garden, spilling over with flowers, is both Mairi's oasis and source of inspiration.

"On a warm day I will take my cup of tea out into my little garden and just sit down and paint," Mairi says. "This is my idea of perfect joy, with the paintings just unfolding as I go along. My works are not a direct representation of what is before me, rather they capture how I feel at the time and how places feel."

Mairi painted Joy last Spring while her little garden was festooned with blossoms. Capturing this moment led to a sublimely striking piece bathed in pink and lightly dotted with small flowers: "For me, the physical act of painting is very intuitive, and it is how I process my feelings. It is simply a matter of beginning to paint until the painting eventually takes hold of me."

The Glover Prize will be announced at Evandale on Friday March 11, with the exhibition running until March 20.
Celebrating the Tasmanian Landscape – at the Clarendon Arms, Evandale
Published 26 February 2022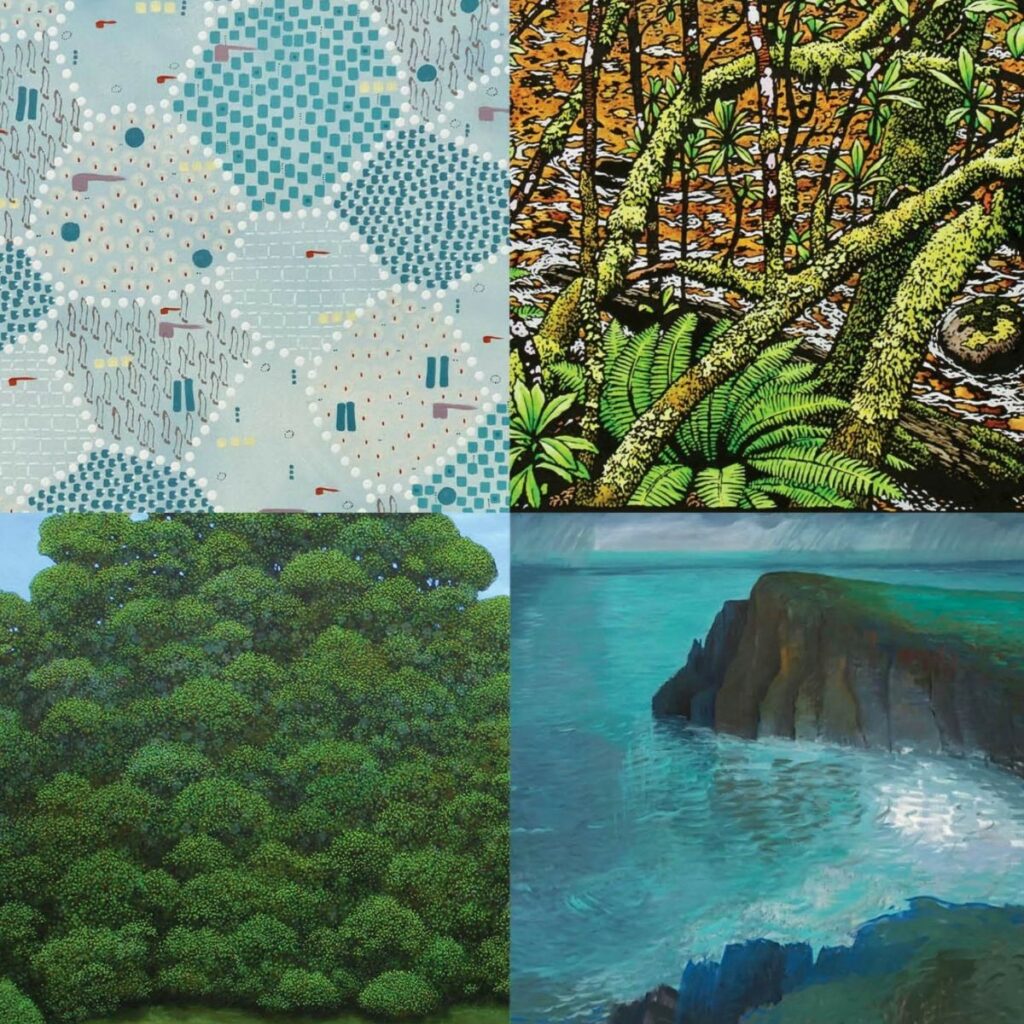 Every year Handmark holds a special landscape exhibition to coincide with the Glover Prize, and also to celebrate this eagerly anticipated event on the arts calendar. Until his death in 1849, artist, John Glover, famously captured the vistas around his Evandale home, and now every March the prestigious prize in his  honour draws art enthusiasts in droves to the historic village.
In fact, over 20 of Handmark's wonderful artists are currently busy putting the final touches to the works they have especially created for the pop-up exhibition, which will be held at the beautifully restored Clarendon Arms Hotel. And, while a March trip to this northern midlands village is a must for art buffs, it is just as enticing for lovers of fabulous Tasmanian food and wine.
Handmark's Celebrating the Tasmanian Landscape kicks off on Friday March 4, where you can enjoy some live music and drinks along with great art. But why not make a night of it.  Stay for dinner, and a taste of fantastic Tasmanian produce, at the Clarendon Arms.
Celebrating the Tasmanian Landscape opens from 5:00pm on March 4 at the Clarendon Arms Hotel in Evandale, until April 4.