handmark consultancy ― art + automobiles
Published 7 November 2023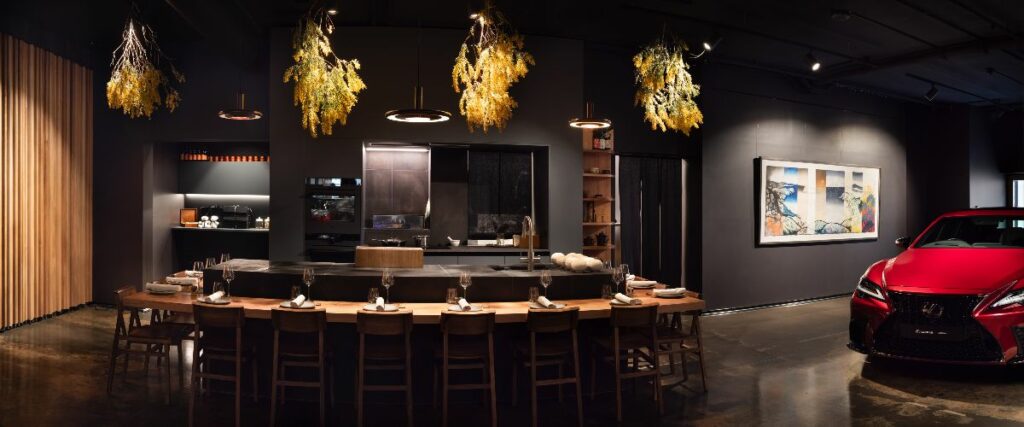 Luxury cars, fine dining, and striking art! Handmark has played its part in this tantalising project which has turned the concept of car showrooms on its head.Japanese restaurant that only seats ten is tucked away, while jaw-droppingly beautiful cars are sprinkled throughout. Welcome, to the Lexus of Tasmania Sales Suite. "We re-imagined car sales into the future and wanted to create a boutique offering where we invite our customers to share an amazing experience. There is nothing like it anywhere else in Australia," Sales Suite Manager, Samantha Jeary, explains. "Where else can you find a car showroom with a fine dining restaurant that is booked out months in advance!" As part of Handmark's consultancy service, Gallery Director Allanah Dopson, selected the art. A striking commission by Anna Fitzpatrick – who is currently exhibiting at Handmark, hangs in the intimate lounge. A pared back Olivia Moroney landscape and sculptural Geoff Marshall lamp, work brilliantly in Samantha's office where she relishes the 'calming tranquillity' of the pieces. And, it's an oversized Jonathan Partridge print that provides drama as it holds court in the darkened Omotenashi restaurant. "Lexus is a luxury Japanese brand, and the beautiful Japanese aesthetic of Jonathan's work is just perfect." Buying cars, will never be the same!The Lexus of Tasmania Sales Suite is located in Elizabeth Street, Hobart.
It is an experience like no other. Specialty timber lines the curved walls of this architectural Hobart gem, where custom-made furniture works hand-in-glove with Handmark art. An exclusive 
phill mason ― jeweller celebrating 40 years
Published 7 November 2023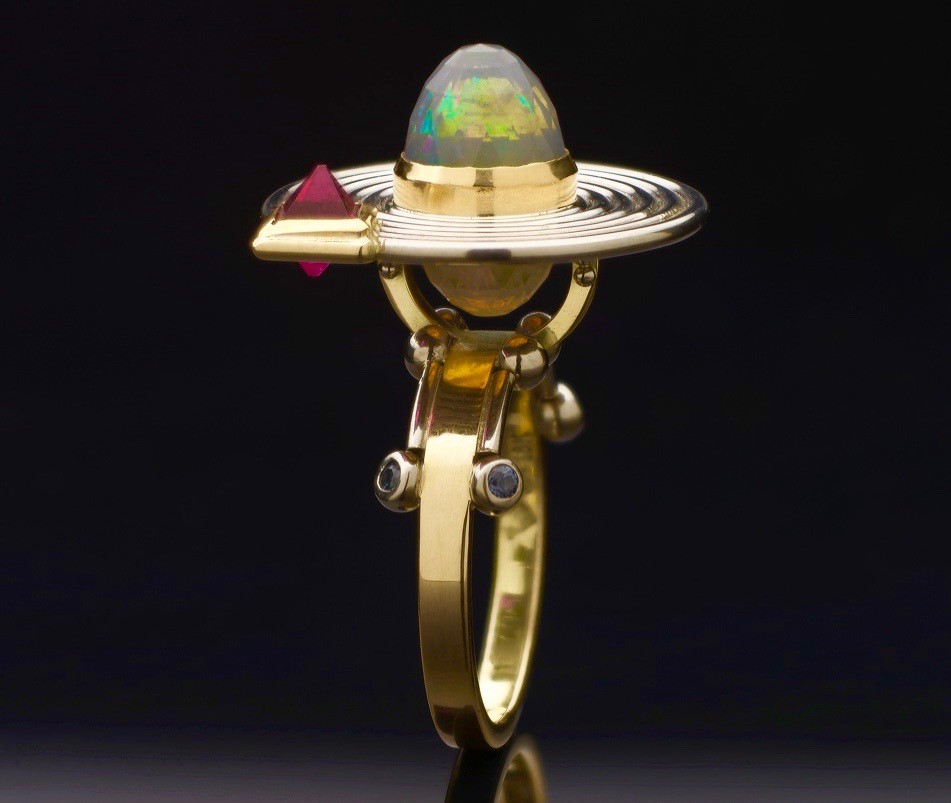 If you had to name one Tasmanian jeweller who has received more accolades than any other over the years,  Phill Mason would probably spring to mind. Now, Handmark is celebrating Phill's four decades of goldsmithing and gemstone faceting with a special exhibition: 40 years; 40 awards; and 40 pieces. Phill is Tasmania's most awarded jeweller, with his bold works collected by galleries across the country. And while this collection looks back on an extraordinary contribution, it also looks to the future as Phill collaborates with his son Tyrus, who has emerged as an expert goldsmith and jeweller in his own right. Renowned internationally for his gemstone faceting, Phill's distinctive sculptural works often featuring Tasmania's famed Killiecrankie Diamonds, are immediately recognizable. One of the 40 standouts in this special exhibition is The Birth of Saturn ring. A hefty and glittering 4.76 carat faceted opal becomes the planet encircled by bold silver representing Saturn's seven rings. A pointed garnet adds drama. "I will never forget the first time I saw Phill's jewellery," Handmark Director, Allanah Dopson recollects. "It was 30 years ago at a jewellery exhibition in Sydney and his work really stood out. It was cutting-edge and made a big impact on me. I consider it such a privilege to have Phill as part of the Handmark family." Now, with Tyrus taking up the reins, the next generation of Mason mastery is assured.We are thrilled to welcome Curator, Writer and Historian Grace Cochrane AM to open this important showcase. Phill and Tyrus Mason's 40 Years, 40 Awards, 40 Pieces runs at Handamark from November 10 – December 4.
anna fitzpatrick — dreamscapes
Published 7 November 2023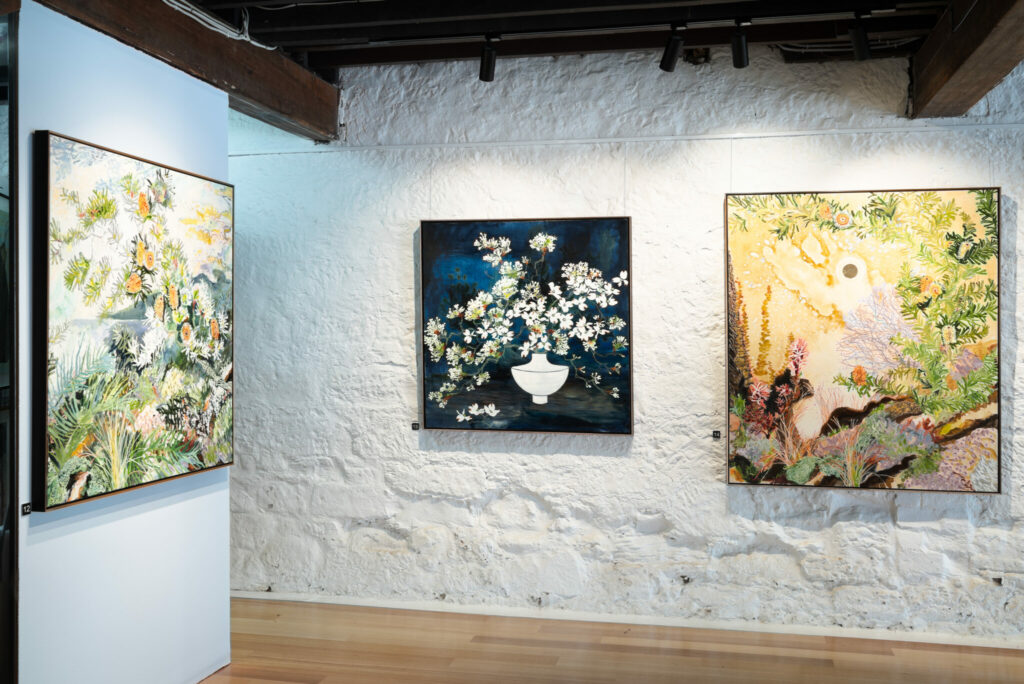 Anna's oil paintings transport us to another dimension. In these new works, random vignettes leap from the canvas in stunning juxtaposition. "They are just like a dream where multiple worlds all seemingly exist at the same time." Anna tells us. "Spaces shift, figures dissolve, and imagery is layered with surreal elements that float in an out of focus as they move across the canvas."Anna Fitzpatrick's Dreamscapes exhibition runs at Handmark until November 20.
In her dramatically large triptych, The Queen of the Night Cactus, the indoors and outdoors melt together. A kookaburra flies through a living room while a faceless bust stands guard. Steam rises from an intricate Spode tea service, vases of cut flowers, snippets of native flora and a giant cactus all inhabit the same space. "I don't plan what I paint, it just takes on a life of its own. Often, I go to sleep with something unresolved in the studio and wake-up with the answer." Anna also believes in the power of colour praised as "the driving force of all my paintings." In these Dreamscapes, recurring pops of 'zingy' ultramarine blue – her undisputed favourite hue – brings an intensity and passion. The deep blue of a moonlight night takes us to the place of dreams, while intricate ultramarine patterns envelop the canvas. "It is a very Brett Whitley colour and really helps me to connect with my work on an emotional level."
emily blom — between being and becoming
Published 15 October 2023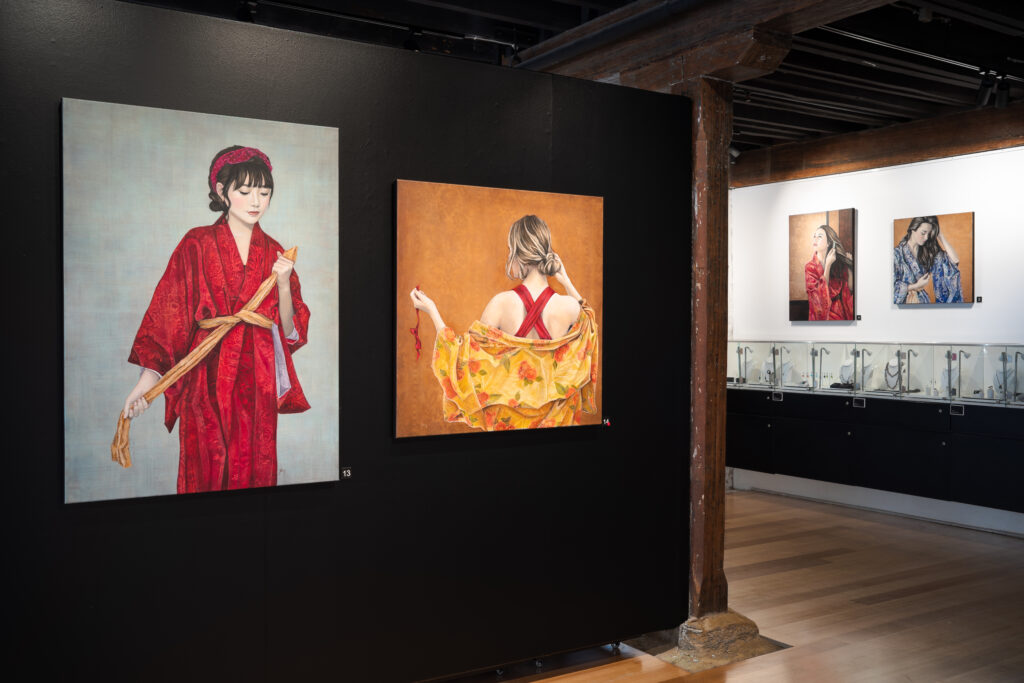 With her beautifully light feminine touch, Emily Blom captures those fleeting moments of transition imbued in daily ritual. Lush textiles add a richness to her exquisite art.
Intimate morning rituals of dressing, grooming and adorning the body take on deep significance. "There is something special that happens in the process as we are transported from our private world and into the public day ahead," Emily explains. "I am particularly interested in pausing in this transient space." Beautiful young women become the perfect metaphor in Emily's Between Being and Becoming exhibition: "On the cusp of adulthood, the figures are suspended between what they were, what they are, and what they will become."
Emily also draws on time spent in Japan by brilliantly incorporating print – based on the ancient art of woodblock from the Edo Period – into her 14 new paintings. She also drapes the young subjects in opulently patterned kimonos as the links between "femininity, textiles and identity" are explored. A subdued colour palette ensures a pared back Japanese aesthetic allows us to focus on the female form with minimal distraction so that "a single gesture or glance is able to reflect something deeper and more meaningful."
In Silken Threads and Woven Thoughts, contemplation of a small decorative tassel takes on an air of importance in a clever mirror image. While A Moment Between presents the simple act of hairstyling as a subliminal drama allowing the viewer to "reflect on the complexities of a brief moment between this fleeting beauty, that is Between Being and Becoming."
Emily Blom's Between Being and Becoming exhibition runs at Handmark from October 13 – 30. 
national treasure lola greeno — 2023 don macfarlane prize
Published 15 October 2023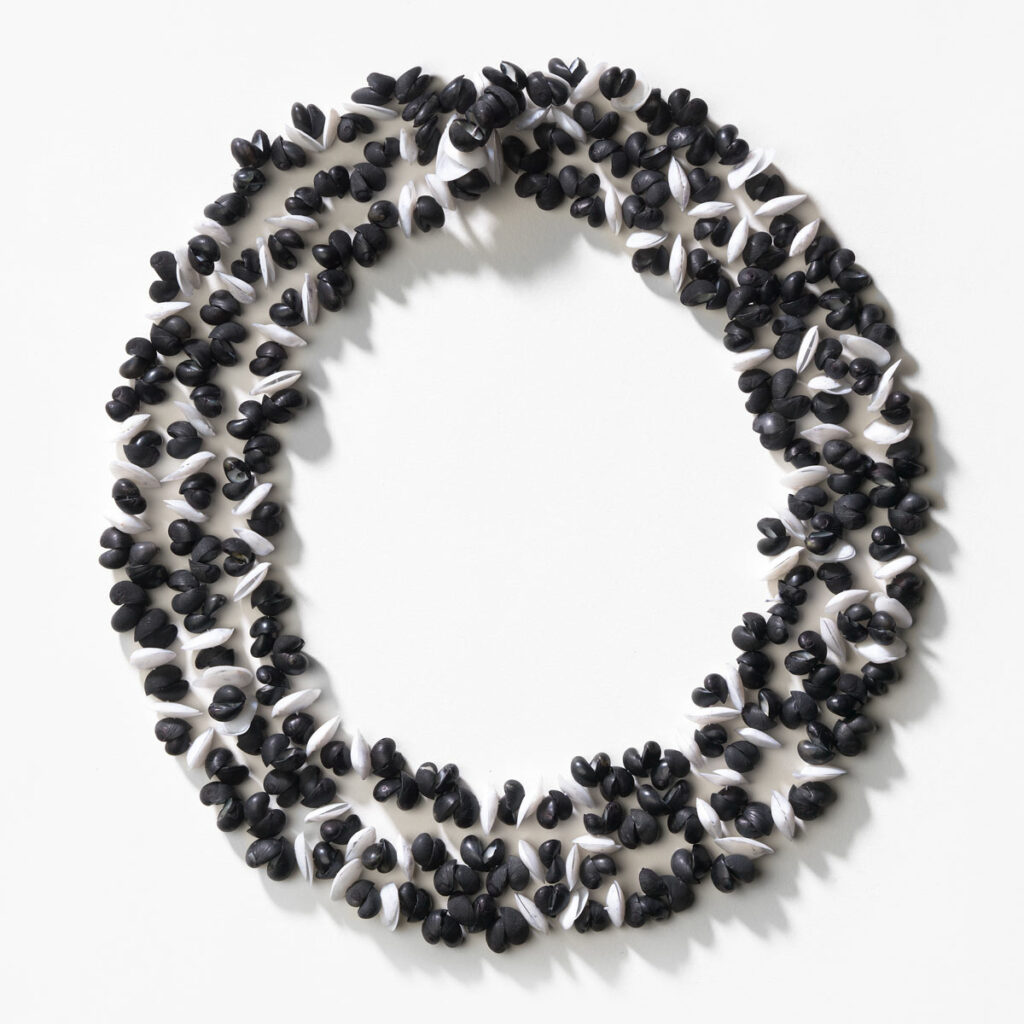 Lola Greeno is recognised as a national treasure. Now this proud pakana woman from truwana (Cape Barren Island) has received high honour for her prized shell necklaces and enormous cultural contribution.
For Tasmania's First Nations People, the importance of shell necklace making cannot be over-emphasised. Passed down through generations of women it is the oldest continual cultural practice, and Lola has devoted her life to keeping it alive. Acclaimed for her maireener shell necklaces glowing in iridescent blues and greens, Lola's "earliest memories are going to the beach with mum to collect shells, and then hearing all the stories as we made necklaces with our elders. It is a tradition I have passed down to my daughters and granddaughters."
With her art praised as 'threading together stories and knowledge that can be traced back thousands of years,' Lola is the fitting recipient of this year's $50,000 Don Macfarlane Prize which is awarded in Melbourne to an outstanding senior Australian artist. "The award is for artists still practicing, mentoring, and using their leadership skills, and one of my friends cheekily said 'Lola that sounds like it was written for you!'"
Awards aside, there is no stopping this 77-year-old national treasure in her on-going quest to preserve an important cultural practice. "I have just finished a workshop with 18 young women, and I am thrilled that shell necklace making is being embraced by the younger generations. It is definitely going through a resurgence."
small sculpture honour ― mona choo
Published 15 October 2023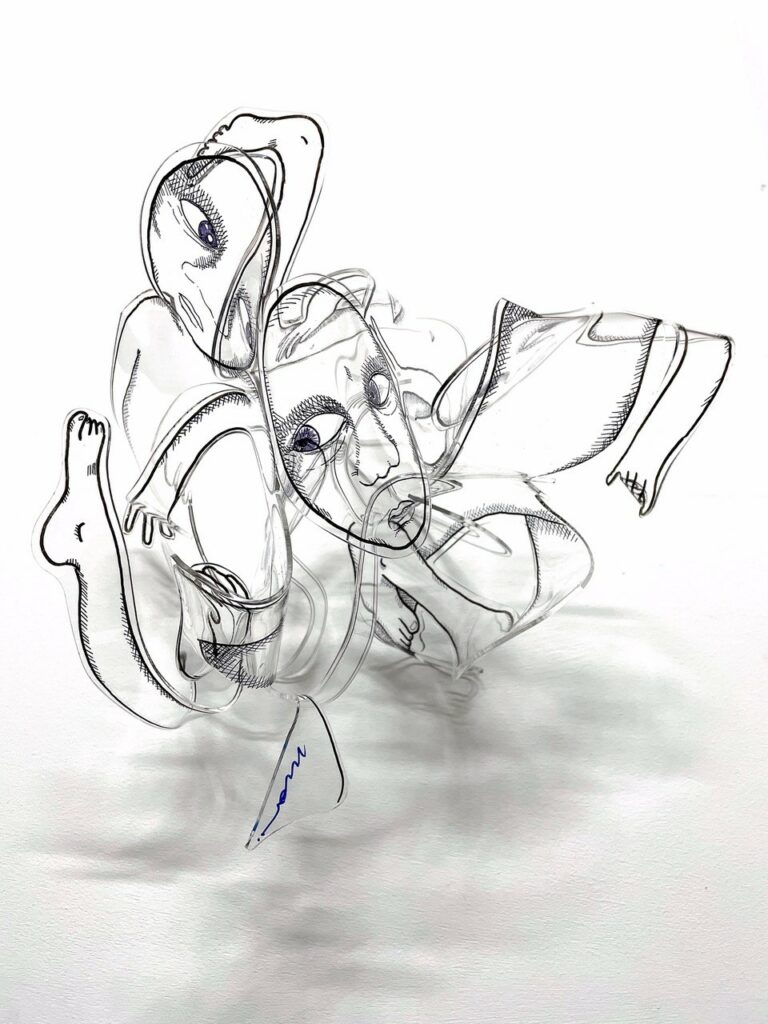 Mona Choo describes herself as a multi-disciplinary artist. So, to be short-listed for an important sculpture award is a rare honour indeed.
It was Mona's interplay of drawing, sculpture and shadow that caught the judges eye in the Uranga Small Sculpture Award, which is based in regional NSW. "I feel very honoured and humbled," she tells us. "Honoured because I am not trained as a sculptor, and humbled that my work is among such accomplished sculptors."
Mona entered a delicately transparent piece from her successful Stuck series. Described as a 'three-dimensional drawing,' Mona draws a figure onto a sheet of clear acrylic then moulds it by hand to explore "the ambiguity that lies between the two-dimensional surface and three-dimensional object." However, it is the interplay between light and shadow that really brings Mona's art to life: "With light, the shadow-drawings that emerge add another dimension blurring the lines between where the sculpture ends and the shadows begin, much like the ambiguity that currently exists at the boundary between consciousness and brain."
In the meantime, Mona – who is now based at Cygnet after years of living between Tasmania and Singapore – continues to explore all artistic mediums with exquisitely beautiful results: "Because my work is conceptual, the medium I create with is the one that can most effectively communicate the concept I am wanting to convey."
Published 15 October 2023
Handmark Artist, Chantale Delrue, is a passionate environmentalist and employs humour to shine a light on our oceans in a powerful exhibition at Hobart's Maritime Museum.
Works chosen for Reimagining the Ocean are embedded throughout the Museum as we are implored to see the ocean as a source of life, rather than conquest. Determined to raise awareness about the ocean's bounty and also dangers, Chantale "hopes her humorous twist will encourage people to treasure what we have, and the urgent need to protect it from plastics and other pollutants."
Chantale sounds a future warning in her watercolour, Something Fishy About these Fish, as she imagines a creature made from waste products, while the Mermaid's Tool Bag is a light-hearted counter to the Museum's popular, and overtly masculine, Sailor's Tool Bag. "While mermaids are always naked, they often carry accessories such as hand mirrors, combs and pearl necklaces." Homage is also paid to the women left behind as husbands head to sea in Waiting where a young wife gazes forlornly at the ocean. "So many men at sea… so many women waiting for the return of their menfolk."
As the exhibition's curator, Dr Llewellyn Negrin, writes: "Through much of European history, the ocean has been viewed primarily as an adversary to be tamed" adding, this exhibition "seeks to recast the ocean in a different light… as a sanctuary in need of care rather than as something to be conquered."
Works by Handmark contemporary jeweller, Janine Combes, also feature in this exhibition.
Reimagining the Ocean runs at Hobart's Maritime Museum until early December.
melissa smith at QVMAG ― tracing the line
Published 15 October 2023

Printmaker Melissa Smith has been honoured with a solo exhibition at Launceston's QVMAG. But, it also gives us a sneak peek into her special Handmark outing early next year.
Tracing a Line follows the evolution of Melissa's mark-making in her beautifully sparse landscapes of remote Tasmania. "This is a very intimate show of 20 works ," she tells us, "and it follows the shifts and changes in mark-making over my artistic career." Dating back to 2004, the earliest print in the QVMAG exhibition, Traces of Touch, presents a mass of detailed lines contained within an elongated rock formation.
But with the passing of time, Melissa throws off the shackles of control as risks are taken, and confidence grows. In contrast, her recently completed, Collecting Thoughts, Lake Sorell II, is imbued with an organic freedom and fluidity. "Looking at these two works which bookend my artistic practice, you are able to trace how my lines have become more unrestrained as I introduce elements of serendipity."
Meanwhile, Melissa is busy preparing for a 'birthday' exhibition at Handmark next February. Collecting Thoughts, Lake Sorell II will feature, along with another piece on display at QVMAG Galaxial Threads – a dreamlike watery work in soft pinks and blues – yet another testament to the remarkable artistic journey of this exceptional Tasmanian artist.
Melissa Smith's Tracing a Line exhibition at QVMAG in Launceston runs until early November
art prize finalists — nick glade-wright + luke wagner
Published 15 October 2023
Talented Handmark painters, Luke Wagner and Nick Glade-Wright, have been selected as finalists in two of Australia's prestigious art prizes.
Pops of colour, often in vivid orange, explode from the canvases of Nick Glade-Wright. In Peace Will Come a lone bright tree, its branches bare, dominates the changing landscape. "The tree of life is pink, symbolising vulnerability, and stands firm," Nick explains, "as the blue skies of change push the dark skies of war out of the picture."  Impressing the judges, Nick's painting has just been nominated as a finalist in the Caleen Art Award at NSW's Cowra Regional Gallery.
Success also for Luke Wagner, who's haunting subdued landscapes of Tasmania's northern Midlands, proved a sell-out success at his last Handmark exhibition. Now a new painting in the series is in the running for Sydney's significant Mosman Art Prize which dates back to 1947. Luke describes his entry, The Last of the Night, as "a dusky evening scene which was painted in the same area around Woolmers near Longford."
contemporary tasmanian jewellery ― difficult terrain
Published 15 October 2023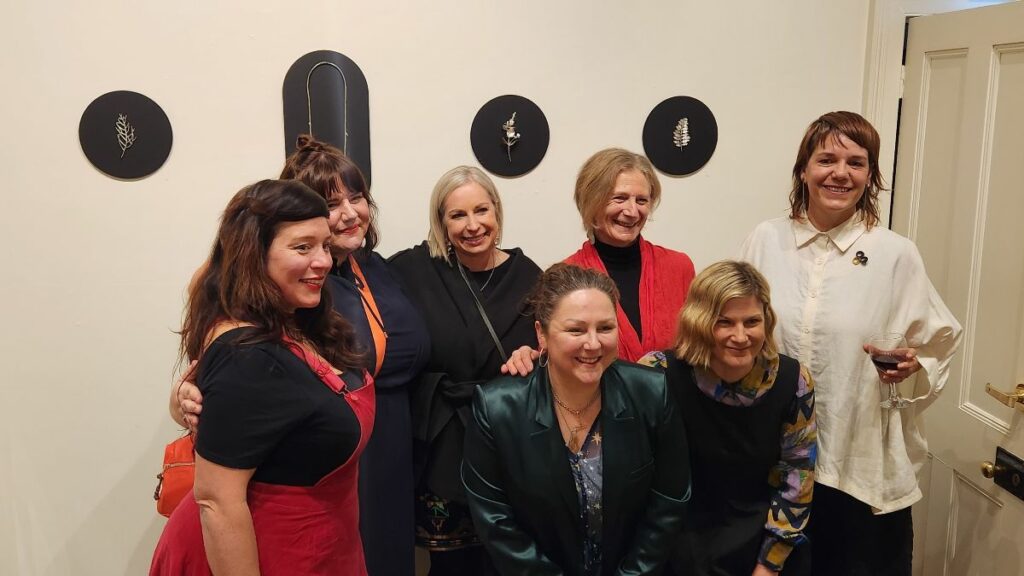 If you need convincing about contemporary jewellery as an important artform, just take yourself to a surprising exhibition in an old Hobart schoolhouse. Among the treasures you will stumble across are thought-provoking pieces by Handmark favourites.
Not even a break-in the day before opening, could dampen enthusiasm. "The response has been overwhelming, with so many people telling me they never thought jewellery could be so sculptural and different," organiser Janine Coombes enthuses.
In her first curating role, Janine – a highly acclaimed Handmark jeweller herself – entices ten renowned  artists to exhibit at Rosny's Schoolhouse Gallery.  The topic of Difficult Terrain was chosen. "While my work explores Tasmania's history of colonisation, this concept is broad enough to allow everyone to present a wide diversity of work and ideas."
Janine turns to torn tin for her interpretation as fellow Handmark jewellers explore different mediums; Anna Weber moulds mesh bags into jewellery; Emily Snadden presents delicate silver pieces; Emma Bugg creates chunky rings from cast form; while acclaimed First Nations artist, Lola Greeno, brings her highly prized maireener shell necklaces: "We wanted to challenge pre-conceived notions of jewellery." Mission accomplished.
Difficult Terrain: Contemporary Tasmanian Jewellery runs at Hobart's Schoolhouse Gallery in Rosny until September 24