olivia moroney – out of the weather
Published 14 October 2021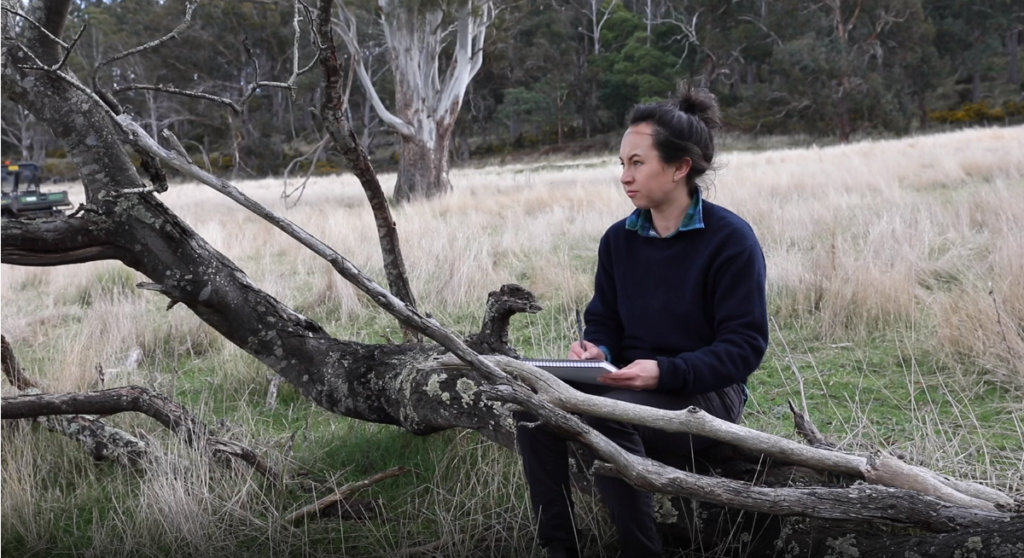 Tasmania's stark, yet striking Midlands is captured beautifully in the upcoming exhibition of Olivia Moroney's, Out of the Weather, which also explores a dramatic use of wallpaper.
From her studio at Jericho, Olivia has a ringside view of her beloved Midlands in all its climatic moods: "It looks so different depending on the weather. And it is the interplay between the sun and the clouds and the landscape that I really love to bring to life in my landscapes," Olivia tells us. But, in Out of the Weather, a stunning collection of etchings and charcoal drawings, Olivia adds another dimension – shelter.
Highlighting the "need for shelter for both man and livestock," Olivia recounts the motifs of trees and undergrowth as they offer vital protection from the elements. In her charcoal drawing, Taking Heed, focus falls on a hedge of pine trees in the distance. But it is her etching, Where We Find Shelter, with gumtrees looming large as they stand guard, that captures attention. It has also been replicated on Wallpaper, with this large image taking centre stage in the exhibition, demonstrating how all her works can take on this new adaptation.
At just 29 years of age, Olivia is one of Tasmania's rapidly emerging artistic talents. She is also on a mission to record the changing landscape of the Midlands: "As agricultural practices change, so does our landscape. Hedgerows and stands of pine trees that once dotted the landscape are removed as we embrace larger scale farming. I want to capture these motifs before they are lost forever."
Olivia Moroney's Out of the Weather Exhibition opens on Friday 15 October.
martin rek― hadley's honour
Published 14 August 2021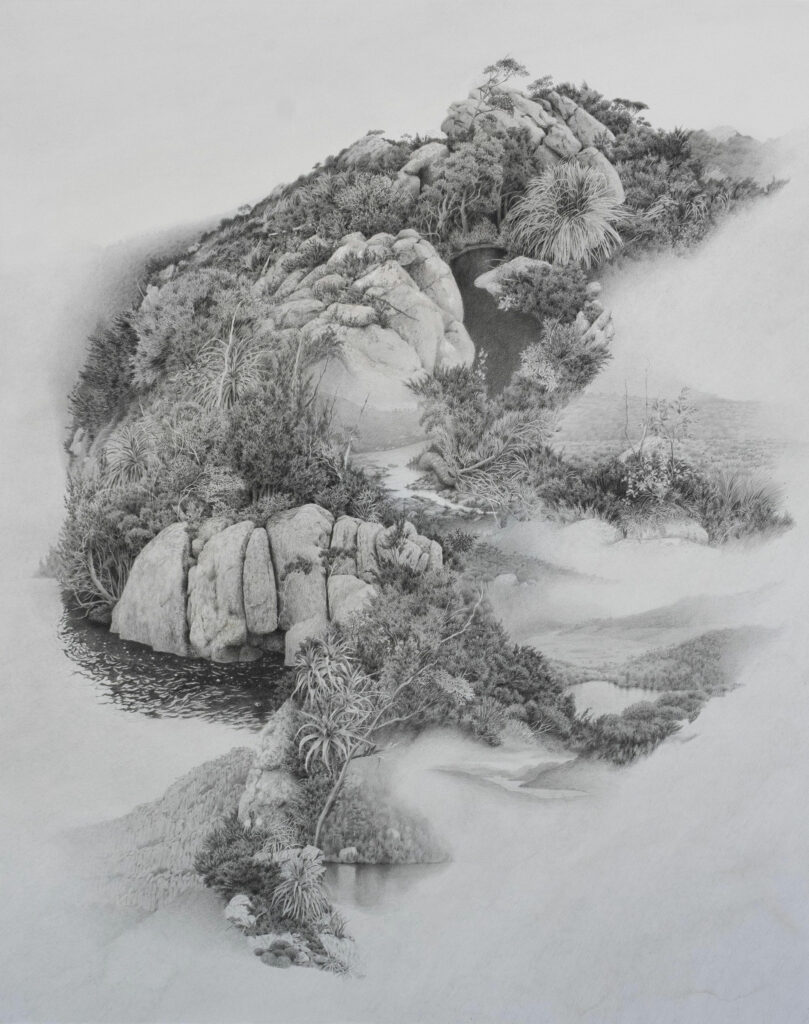 The 2021 Hadley's Art Prize attracted a record field of 721 this year, and Handmark artist, Martin Rek, is thrilled to be amongst the final cut. In fact, Martin is still pinching himself that his Highly Commended work, Reverie, was selected as a finalist in this prestigious landscape award.
Known for painstakingly detailed carbon sketches of Tasmanian wilderness, the judges praised Reverie, as a "deeply sensitive and detailed drawing created with incredible precision which reveres a place as both real and imagined." They further applauded the piece as "a reflection on the expansive views and fine details that form the cumulative experience of bushwalking."
Martin created Reverie especially for the prestigious art prize, deliberately stepping outside his comfort zone during the process. He explains that in the past he has always started off with small scale sketches to plan out how his landscapes will finally take shape. But, with Reverie Martin threw caution to the wind and adopted a "very spontaneous and organic approach with no preliminary drawings." Furthermore, rather than depicting one traditional scene, Reverie pulls together fragments of many of Martin's favourite locations to roughly form a posed figure.
Now that Martin's new-found sense of artistic adventure has reaped such impressive results, it would seem there is no turning back for this artist: "In the future I will continue to challenge and push myself with my drawings. You can expect the unexpected!"
The Hadley's Art Prize Finalist exhibition runs until August 29.
nanna bayer ― museum pieces
Published 14 August 2021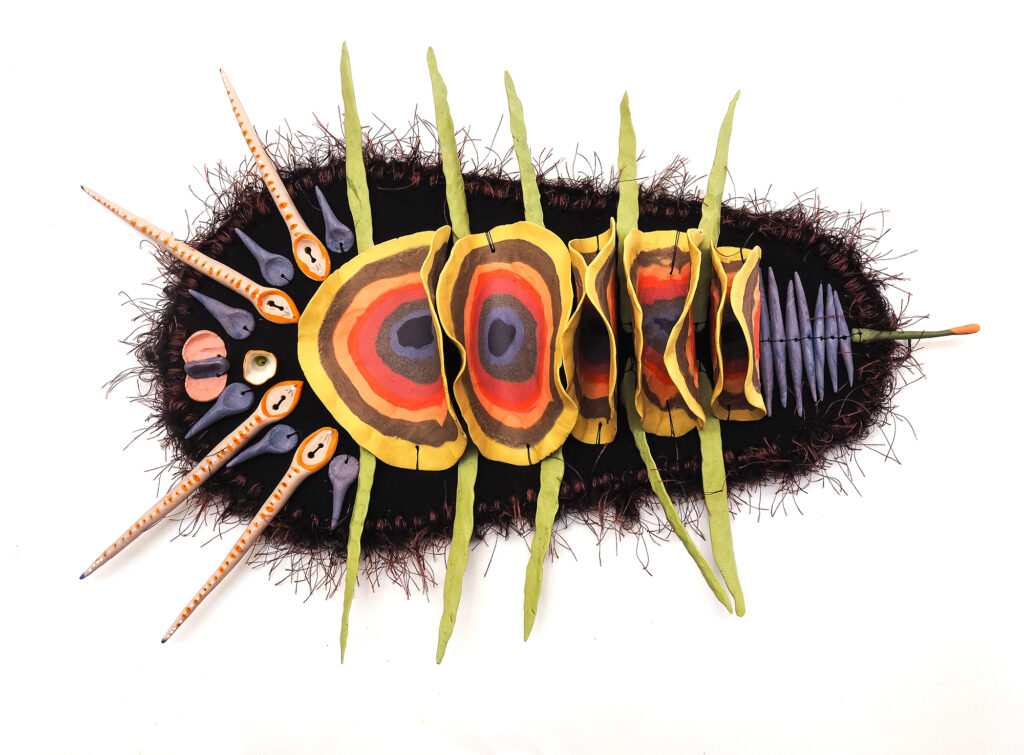 Handmark artist Nanna Bayer is one of our island's most renowned ceramists, and now the Tasmanian Museum and Art Gallery is showcasing her unique designs. Using the beauty of nature as her muse, Nanna's colorful and quirky style have attracted a loyal legion of admirers.
Her exhibition, I Know You Are There, explores the remarkable world of microscopic beings – such as bacteria, slime mould and diatoms – and is part of the Beakerstreet science event. As Nanna explains in her artist's statement: "I know you are there you remarkable beings! Majestic. Inimitable. Invisible to our eyes. Me, an artist, lacks the lens to magnify your beauty and instead engages the imagination to find a fitting nomenclature."
As well as drawing on her expertise with ceramics for this exhibition, Nanna tells us these works also draw on a background steeped in dressmaking, knitting and weaving. Her striking porcelain microscopic creatures are adorned with fibre, fleece and fur. They also feature pieces of copper wire, bright beads even optic fibre.
Nanna says she hopes her works will help to inspire us to further open our minds to the beauty of these often-feared invisible beings, with her artist statement finishing with, "I know you are there cradling my bare feet on the earth, blanketing my body on a morning swim, and in the cold winter air I breathe you in."
Nanna Bayer's exhibition runs until August 31 at the TMAG Bond Store.
ella noonan ― fantastic fish
Published 14 August 2021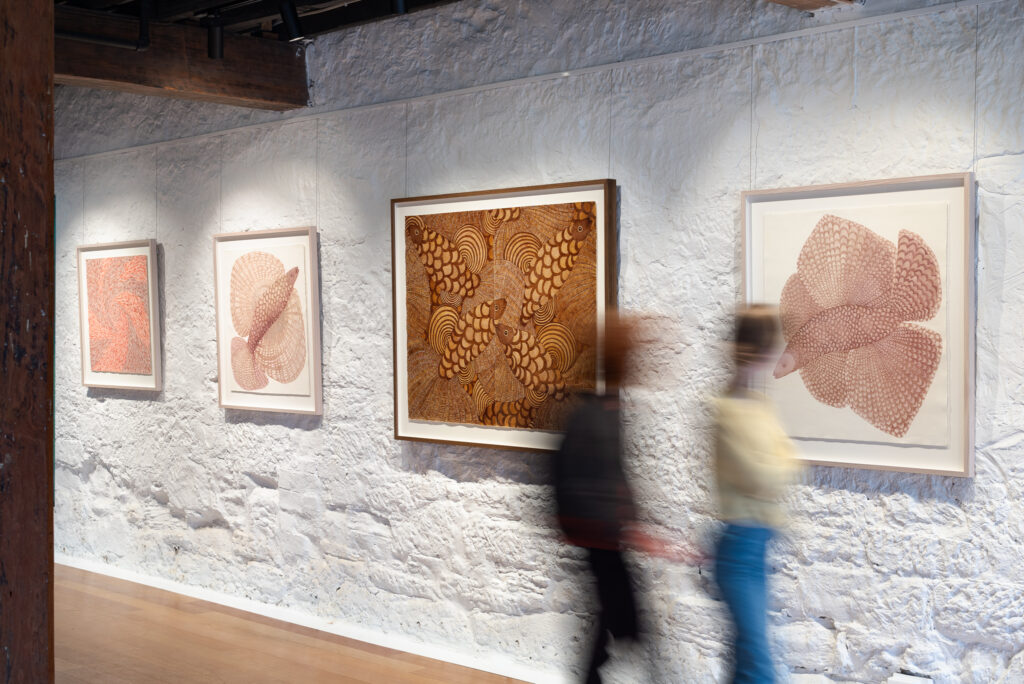 The intricate rhythmic patterns of fish are the inspiration behind artist Ella Noonan's stunning Handmark exhibition – And I Let the Fish Go.
Ever since she can remember Ella has had a special affinity with creatures – both great and small. But, in recent years it is underwater creatures that have captured her artistic eye: "I just love the patterns in fish. The exquisite detailing of their scales as well as the patterns they form as schools of fish move through the water are absolutely beautiful," Ella explains.
In fact, the delicate pen and ink drawings and porcelain pieces in And I Let the Fish Go are a testament of Ella's love and respect for the ocean's creatures. We see fish wrapped in shimmering scales as they swim along in one tight seamless group. The naming of her exhibition pays homage to Elizabeth Bishop's poem, Fish, which recounts the author's experience of releasing a caught fish back into the water after she is struck by awe and connection with the small catch in her hand.
However, Ella's art also reflects her fears for our oceans as overfishing and plastic pollution increasingly take hold. And, with a focus on future generations Ella has drawn in a surprising young co-collaborator for the exhibition – her two-year-old daughter, Iris.
Ella is quick to point out that as she spends her days immersed in art, Iris is constantly by her side with a pencil in hand. And for this exhibition Iris has added some small touches of color to three of the exhibited works. As the proud mother laughingly tells us: "Both our names appear as the artists for these pieces!"
Ella Noonan's And I Let the Fish Go exhibition opens at Handmark Gallery tonight, August 13 from 5 pm.
tonya gilbett― a unique gem
Published 2 August 2021
A stunning pendant handcrafted by jeweller Tonya Gilbett showcases an incredible gem for the very first time – an opal encased in a pearl.
It is almost impossible to conceive. An opal, beautifully cut and polished, is embedded in an oyster shell. Over the next couple of years as the pearl grows, its nacre envelopes the gemstone inside.
Tonya stumbled on this incredible gem via a friend – the daughter of an opal miner – and is the first to promote it to the world. As well as its beauty, Tonya is entranced with the story behind this gem. The opals are mined in outback South Australia at Coober Pedy then transported to an oyster farm in far northern Western Australia: "It is a beautiful coming together of land and sea," Tonya explains.
Tonya has secured a handful of these precious gems, which she describes as "high-quality bright blue opals within high-quality beautiful white pearls." A distinct silver pendant – featuring tiny scarab beetles representing transformation – has been fashioned out of one gem and is now on display at Handmark Gallery. She is already excitedly planning her next creation.
Tonya is known for a love of opals which have featured prominently in her handcrafted pieces for years, and this latest – as yet unnamed gem – opens up a world of possibility.
melissa smith ― from there to here
Published 2 August 2021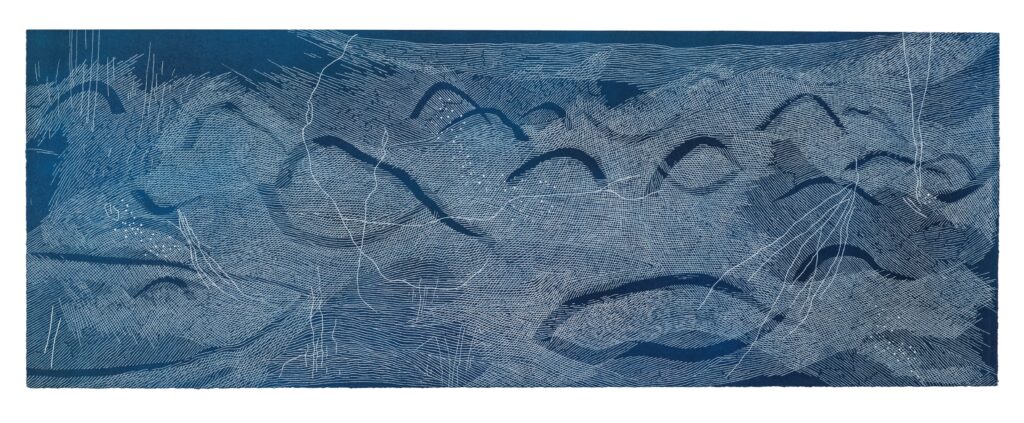 A quarter century of printmaking will be on proud display as a survey of Melissa Smith's art is unveiled this Thursday, in From There to Here at Launceston College. We witness the evolution of Melissa's unique style from its starting point – a graphic self-portrait – to the ethereal landscapes that are her signature today.
"I just followed my passion, while always keeping my door open to new possibilities and influences, and my artistic development was a natural progression," Melissa tells us. "I shifted from internal reflection to looking at the landscape and responding to that."
Melissa is one of Tasmania's most in-demand artists. Employing a process of layering, interpretation and a softer pallet, her landscapes evoke a meditative feel and echo the stories of the natural world around her.
But, she must also surely be one of Tasmania's busiest artists. As Melissa puts the finishing touches on new works for a solo exhibition, Without a Sound, at the Devonport Regional Gallery in October, there is also an invitation to contribute 15 prints to an exhibition in regional Victoria next month.
So, what's in store for the next 25 years: "Well after the last few months I am just looking forward to a good sleep-in and a break," Melissa laughs. "But, after that I just want to keep on working. I have a passion to create that never stops."
denise campbell ― midwinter ice
Published 2 August 2021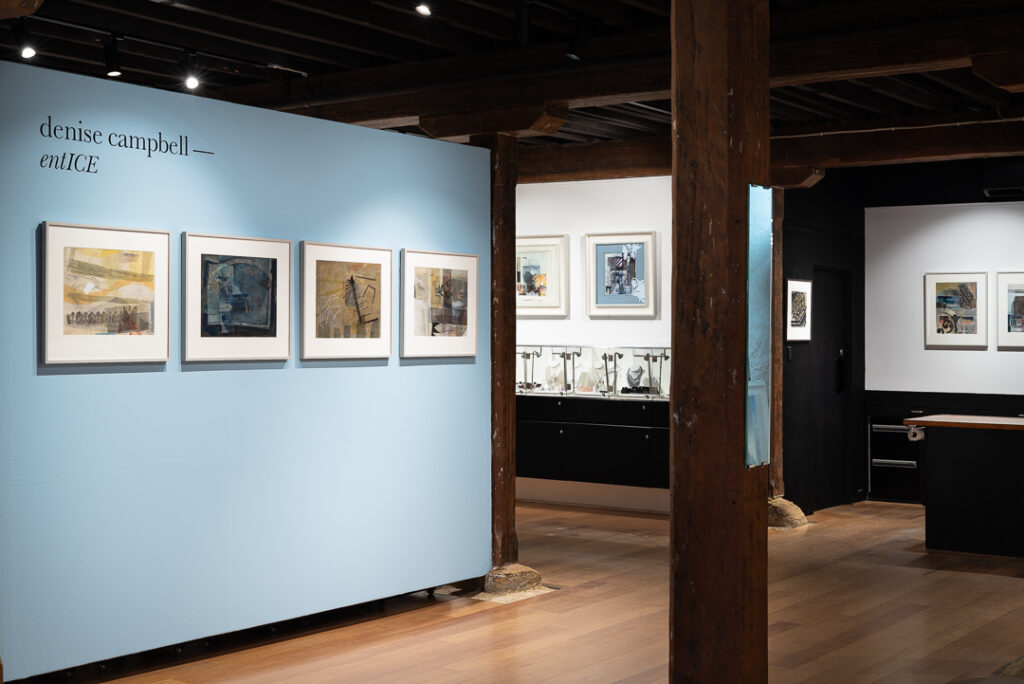 It is the perfect subject for a midwinter showing. This Friday, Denise unveils her solo exhibition, entICE, at Handmark Gallery. A play on words, the artist hopes to ignite a yearning for travel by 'enticing' our imaginations into an unknown 'icy' world.
As Denise explains, her exhibition is "broadly centred on the theme of journeys as an historical and imaginative process".
She draws inspiration from "one particularly significant mid-19th century expedition to the Arctic" which was the doomed voyage of Sir John Franklin who set off with two naval vessels, Terror and Erebus to find the North-west Passage – never to be seen again.
The new exhibition features paintings, etchings, mixed media works and prints. There are even seven unstretched canvas sails. All this art, rich with the imagery of vessels: "There is a great deal of symbolism associated with vessels; for example a sea-going vessel is often linked with the search for the unknown," Denise says.
In one powerful piece, Hidden Beneath, canvas sails and what appears to be shards of ice imparts the feeling of a doomed journey at sea. This is further reinforced by a subtle piece of text by Charles Dickens: "O then, pause on the footprints of heroic men. Making a garden of the desert wide. Where Parry conquered and Franklin died."
Denise Campbell's entICE exhibition opens at Handmark Hobart on Friday, July 23.
grande vue mansion ― art hotel
Published 10 June 2021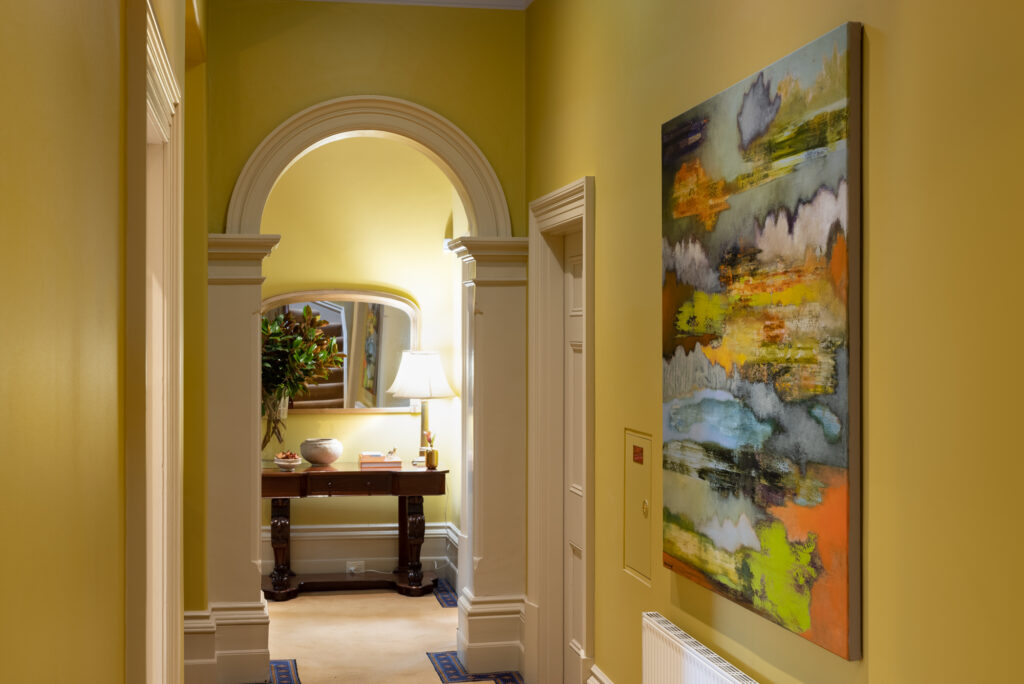 Art has breathed new life into a historic Hobart mansion that for many years has welcomed guests as a boutique hotel.
Holding court in Mona Street, Battery Point, the Grande Vue Hotel has long been a landmark. But new owners, Brock Gardner and Ashley Fleming, are giving the distinguished old lady a facelift – and art tops the list.
In fact, at the end of last year, when Brock and Ashley were handed the keys, one of their first stops was to visit Handmark Gallery, where they called upon Director Allanah Dopson to adorn the walls: "We are in the throes of revitalizing the Grand Vue, and art has been one of the biggest changes. It's incredible just how much it has lifted the feel of the property," Brock tells us.
As part of Handmark's Art Consultancy service, Allanah spent hours with Brock and Ashley at Grand Vue selecting Tasmanian art that reflects their personalities and vision. Some of the pieces were especially commissioned, such as the three works that Tom Samek created for the Gin Room: "Whenever guests walk into the room, Tom's prints immediately become the talking point. They revolve around martini glasses, olives and gin, and everyone loves his cheeky style!" Brock laughs.
And that is just the start. Other works, including a commissioned Battery Point Streetscape by Vika Fifita, are increasingly lining the walls, ensuring that this grand old lady is a showcase of fine Tasmanian art.
bethany van rijswijk + emma bugg ― power duo
Published 10 June 2021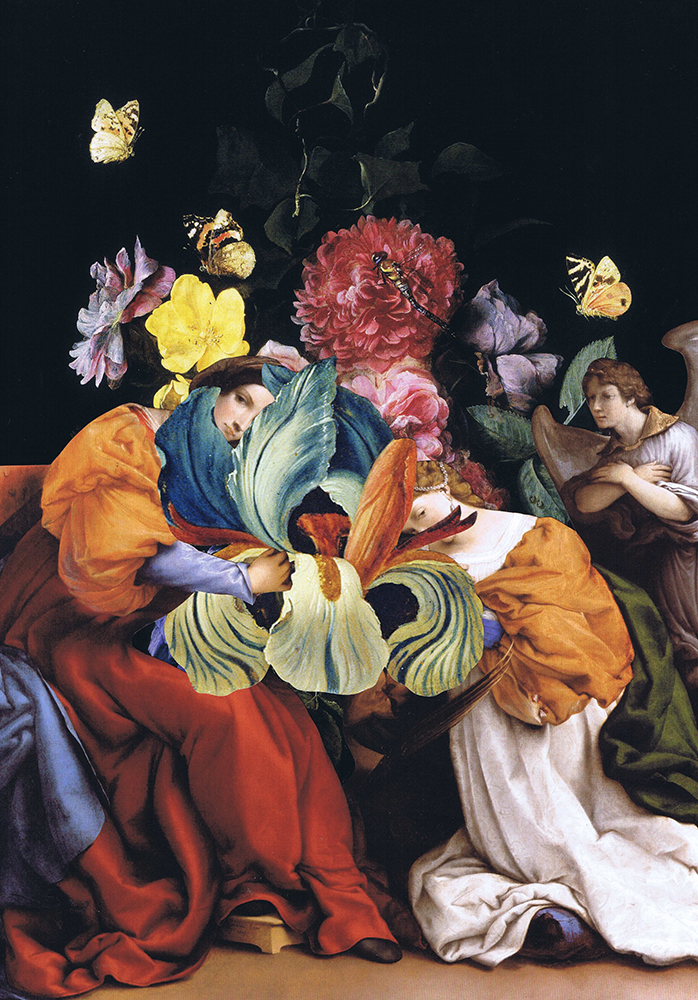 In Bethany Van Rijswijk's work, it is the plants, not people, that dominate. She layers giant 'almost psychedelic botanical illustrations' over familiar scenes, like those of Pieter Breugel's peasant dancers or Lucas Cranach's nudes. Like visions from a fairytale, these distinct hand-cut collages are Bethany's way of creating an 'alternative history' and a world where 'plants are at the centre of every story.'
"I have always been fascinated by plants and the mythology behind them," Bethany explains.
"Plants are so often overlooked, but in reality they have played a major role in shaping our civilizations including our food, wine and medicine."
Much of Bethany's fascination centres around the folklore of poisonous flowers, mind-altering plants, and so-called weeds: "My main aim in Devotion to the Invisible is to reposition plants as key protagonists within our world, within our history, and to tell their own individual stories."
While Bethany's focus is on plant's, Emma Bugg's mind is on rocks. Or in the case of this exhibition,  specifically on man-made ones. She is excited to be showing her latest jewellery designs which are the result of exploration with the gem, moissanite.
"Moissanite is a wonderful lab grown gem, that has a similar hardness of a diamond and comes in a range of wonderful colors," Emma explains. "In my latest work it is all about using materials that play with light and color and I have chosen to use beautiful teal green stones for the pieces."
Emma was inspired to create her jewellery – which features rings and necklaces – as a way to showcase Tasmania's incredible light. Pointing to the luminescence that glitters on our cold water, and the Aurora Australis that often lights up the sky, Emma sees these latest pieces as "celebrating the light in the dark of winter."
The exhibition of Bethany van Rijswijk and Emma Bugg runs from June 11 – June 28.
art honors ― handmark artists
Published 10 June 2021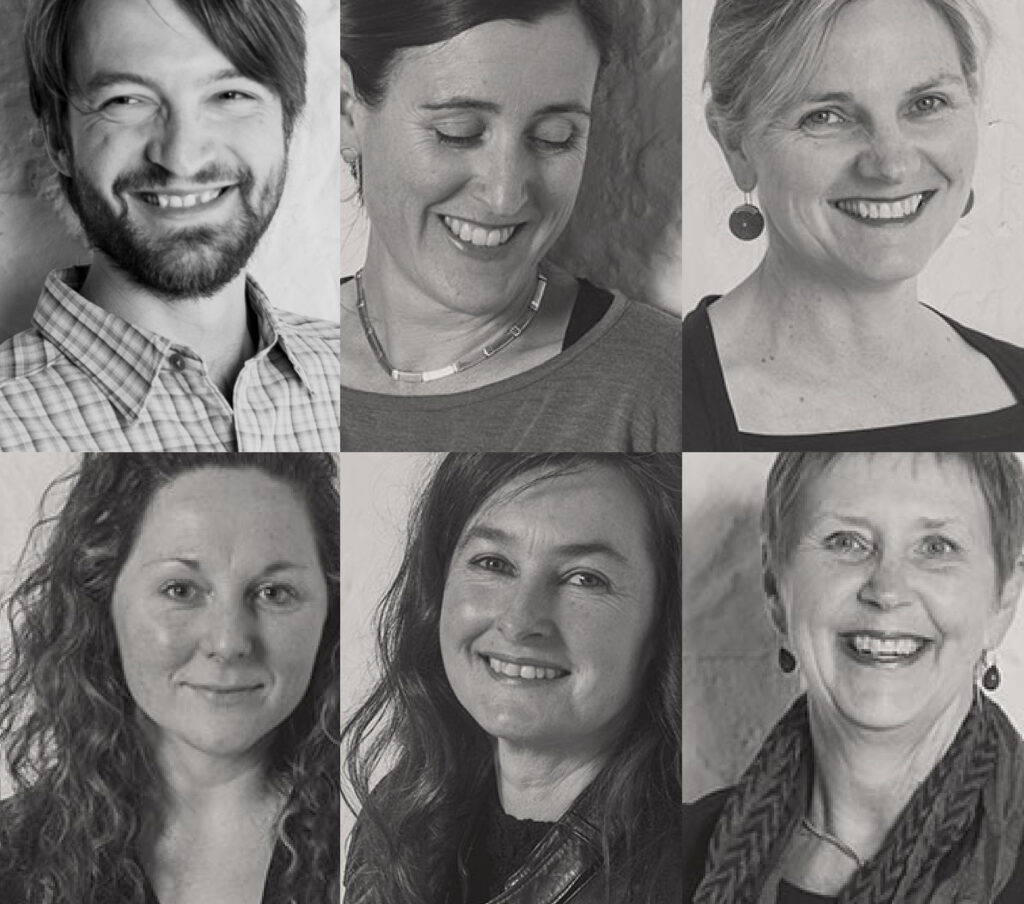 Handmark artists have been making their mark both locally and overseas, including in one of the world's richest landscape art prizes.
With its $100,000 prize purse, the 2021 Hadley's Art Prize attracted a record 721 entries from across Australia. Only thirty-three artists made the final cut for this prestigious landscape award, including Handmark's Martin Rek who is thrilled to be on the list.
The 37-year-old avid hiker is quickly gaining a following for his drawings of Tasmania's rugged wilderness. In fact, when we catch up with Martin he has just returned from Mount Field where days were spent braving the cold with a sketchbook in hand. Sublime, yet detailed landscape sketches in carbon pencil are Martin's calling card, but his Hadley's entry, Reverie, is a radical departure for this methodical artist.
"Reverie began as one concept landscape, but over a number of months it morphed into something completely different," Martin tells us. "Spontaneously the landscape began to fragment and eventually the work evolved into a collection of little pieces of Tasmania's wild landscape that represent my happy places." The Hadley's Art Prize will be announced in Hobart on July 31.
In the meantime other Handmark artists have also made the final cut in different parts of the state. Printmakers Rebecca Coote and Melissa Smith are both finalists in the Bay of Fires Art Prize, an award for modern contemporary art that will be announced in St Helens this Friday. While on the north-west coast, jewellers, Shauna Mayben and Di Allison, have both been shortlisted for the Women's Art Prize Tasmania. The winner of the state's only female art competition will be unveiled in Burnie this Thursday.
Congratulations also to Diane Masters. Her print, Shining a Light on Plankton – Polychaete greets a Sea Butterfly, is currently on display in France as part of the International Mini Print Cantabria exhibition.